AutoCAD - DWG Viewer & Editor
4.5.28
CAD App – View and Edit DWG Files on Your Smartphone
If you are an engineer or an architect and want to open DWG files on your smartphone then this CAD app is an ideal choice for you. AutoCAD – DWG Viewer & Editor is a useful app that lets you draw and draft designs of any kind on the go on your smartphone. It lets you open DWG files and edit them while you are on your way to work. You can also create drawings using a variety of drawing and drafting tools. Any designs you create are saved on the cloud and automatically synced across all your devices. This ensures that any changes you make to a design on your phone can be easily viewed on your workstation in the office.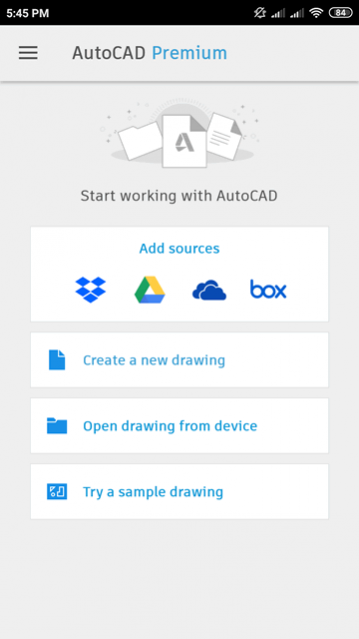 AutoCAD – DWG Viewer & Editor has an intuitive user interface that makes it easy to use for both professionals and students. The layout and design of this CAD app have been kept simple as well which adds to its user-friendliness. You won't have any issue in navigating the app and using the different tools that it has in store for you. However, before you can open, make or edit any drawing, you will be asked to sign-in using your Autodesk account. If you don't have this account, you can easily sign up by providing an email ID and a password. You will be sent an email to verify your account. After the signup process, you will be asked to secure your account by providing the phone number you are currently using.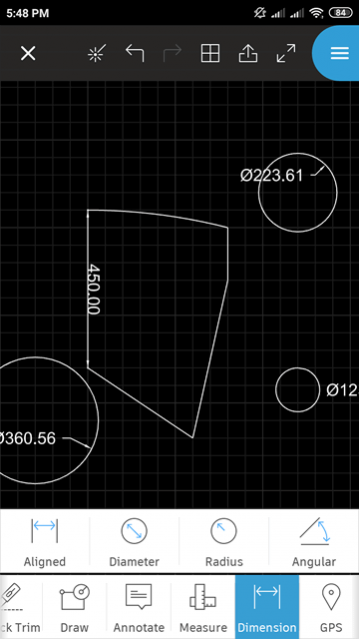 This CAD app offers you the chance to open DWG files stored anywhere on your phone. You are given the option to open DWG files that you have received as email or are stored in cloud storage services like One Drive and Dropbox. Aside from opening these files, you can make changes to them as well. The drawings are made using blocks. You can change the position of the blocks in all your drawings. Also, you can mirror blocks as well and make duplicates of them. If the drawing you are editing has layers, then you can manage them too. Just click the menu button located at the top-right corner of the screen and look under the 'layers' tab. You can add and delete layers from here.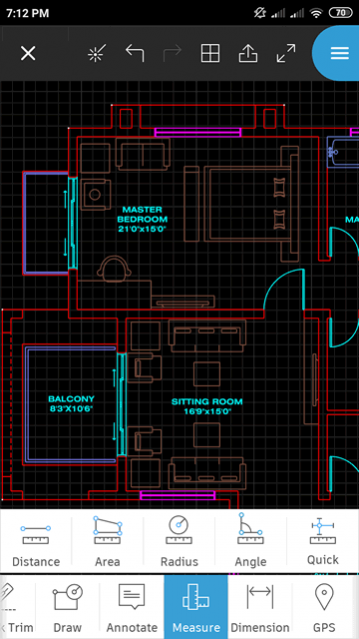 AutoCAD – DWG Viewer & Editor offers an offline mode that lets you work on your drawings and designs even when you aren't connected to the internet. Any edits you make to the design will automatically be synced whenever you get online. This CAD app lets you draw all kinds of shapes when creating a drawing. You can add objects to the drawing as well to save time. These objects can be found in the same menu where the layers tab is located. AutoCAD isn't a free app. However, you are offered a 7-day free trial to try its premium features. You can buy subscription packages to continue using the app after the trial period expires.
Features:
Intuitive user interface
User-friendly design and layout
View DWG files stored on your device
Load DWG files from cloud storage services
Option to edit your DWG files
Various drawing and drafting tools on offer
Draw shapes of all kinds and edit them as you like
Option to move and rotate objects on the drawings
Offline mode for working without an internet connection
Add layers to your drawings
Option to move blocks and mirror them
7-day free trial to try premium features
Various subscription packages available
Conclusion:
AutoCAD – DWG Viewer & Editor is an app which is designed for contractors, engineers, and architects. It enables them to view blueprints and drawings of designs on their phone and make changes to them on the fly. It is an amazing CAD app and a must-have for field technicians and construction professionals.
---
Add a review
Tell us your experience with
AutoCAD - DWG Viewer & Editor
4.5.28
RELATED PROGRAMS
Our Recommendations
---
---
---
---